Rosh Hashanah - The Bnei Brak Salvation Box
Bnei Brak, Israel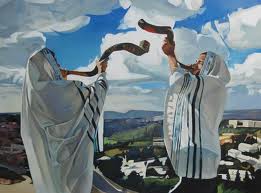 L'shana tova - Happy Rosh Hashanah!

This week marks the beginning of the Fall holiday cycle of the Hebrew Calendar. Just as the spring festivals (Passover, Unleavened Bread, First Fruits, and Shavuot) symbolize the first coming of Messiah Yeshua, the Fall Holy Days (Rosh Hashanah, Yom Kippur, Sukkot) give us a blueprint of His return.

Rosh Hashanah is considered as the Civil New Year by the Jewish people today. It is also Biblically known as the Feast of Trumpets because it is described in Leviticus 23:23-25 as a day of "blowing of trumpets". In Judaism, this day begins the "ten days of awe" and is commemorated exactly ten days before the Day of Atonement (Yom Kippur). Many Jewish people take this event very seriously and believe the Creator opens the Book of Life, the Book of Death, and the Book of Judgment during this time. These ten days are a period of somber self reflection and traditionally the Ten Commandments are read; one each day.

This time has a unique meaning for believers in Yeshua as we will be delivered to meet Him when the trumpet blows at His second coming. (Matthew 24:29-31; 1 Corinthians 15:51-52; 1 Thessalonians 4:16-17).

Once again, Salvation For Israel Ministries travels back into the Orthodox city of Bnei Brak with a group of believers to deliver the message of Yeshua (Salvation) to the people there.

As we entered the city, we noticed charity boxes placed on every corner for Rosh Hashanah. See Photo.



Interestingly, there was a phrase inscribed on the boxes that read, "Give and you will inherit salvation." we realized this would be an incredible tool to share the good news so we began to pray for wisdom and guidance.

As we were interceding for those around us, one of our team members approached two orthodox men and introduced himself. "Shanah Tova!" ("Happy New Year!"), he said.
He inquired about the inscription on the boxes and asked them, "Can we buy salvation?" The rabbi was puzzled by the question and replied, "No, but if we do good deeds we will earn salvation." He then asked the rabbi if he could show where that was written in the Bible. Both men attempted to explain that it's not written in the Bible but in rabbinical books.

We explained that there are so many passages in the Scriptures that deal with salvation as we turned to Psalm 27 and read, "The Lord is my light and my salvation." We also shared the message that salvation will not come by putting money in a box or as a result of our good works but through the Messiah of Israel.

We then said to Rabbi Steven, "As the shofar is blown this year, let all Israel turn to God's wonderful gift of salvation!" The rabbi abruptly became angry and shouted, "That does not sound Jewish to me!" We responded, "Is it not in our Jewish Bible?"

The two men became silent, then turned and walked away. We believe a seed was planted so please pray for them.

We continued to pray and move in the Spirit to another "salvation box." As people approached, we repeatedly asked them why they were putting money in the box. One man named Haim responded by saying, "I do it because I want to be blessed this new year." We asked him if he meant the blessing of salvation.

Haim said no and proclaimed his salvation will be granted to him because he is a good Jew and he keeps the Sabbath. We replied, "But the box says salvation." Then we asked Haim if he thought he might be blinded by his religion. Haim said he never thought about it, he just does what his rabbi tells him to do. "Well, Haim, do you think it is time you start doing what God tells you to do?" we asked. "What does God say to do?" Haim replied.

"To read the very Words of God that tell us we are all sinners and reveal to us that He provided a Jewish Messiah to cleanse us of our sin if we repent and believe in Him alone; not a salvation box." we kindly said.

Haim asked where the Bible says this, so they open to Isaiah 53. After reading we said to him, "May you find salvation this Rosh Hashanah." Glory to King Yeshua! Pray that the words of the prophet Isaiah would be burned into the heart and mind of Haim and that he would realize that Yeshua is his King and Savior.
The gospel continued to be poured out to the people of Bnei Brak, including a religious soldier.
The Lord continues to call us back to this city to reach the religious leaders of Israel. We fully believe that if rabbinical leadership would come to realize Yeshua is the true Messiah of Israel, it would have a major impact on the rest of the country. Maybe even could be the trigger that activates the salvation of Israel! More photos of the outreach.
The evening of September 28th marks the beginning of Rosh Hashanah. As we celebrate and reflect during this wonderful appointed time of the Lord, consider joining with us during the ten days of awe to pray for the salvation of the Jewish people. May they realize that we all stand condemned by the Torah and there is nothing we can do in and of ourselves to achieve salvation.

Apples and honey are traditional foods eaten for Rosh Hashanah to symbolize a sweet new year. May the Jewish people receive the sweetest blessing of all which is the blessing of salvation!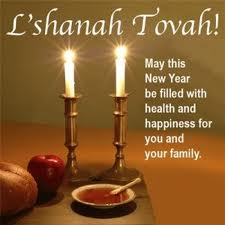 Quick Links
Support Salvation for Israel
Support Salvation for Israel on a monthly basis. Use one of the selections below to donate to Salvation for Israel automatically each month.
NO PAYPAL ACCOUNT REQUIRED.
One Time Donation