Jaffa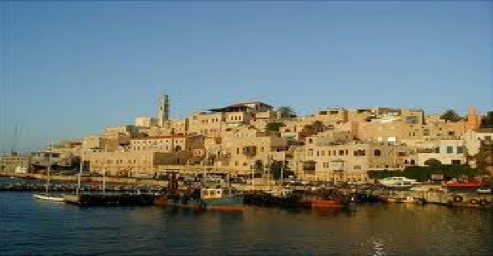 Jaffa, just south of Tel Aviv, is considered by many to be the oldest port city in the world.
The Spirit of God directed us to the beautiful and historic city of Jaffa to proclaim the wonderful gift of salvation. Our car was loaded down with so many bibles it could barely make the trip.
One man named Solomon asked us why we were giving out Bibles. We told him that it is God's love letter to all people. Solomon replied, "You know we are living in very dangerous times and Iran wants to destroy us. We don't need Bibles, we need a big army!"
We replied by saying, "It's not a coincidence we met here today, Solomon. The God of Israel is the only solution for peace! His Word tells us in Genesis 12:3 that whoever blesses Israel He will bless and whoever curses Israel He will curse."
We then showed it is the Lord who will take vengeance on anyone who tries to destroy Israel. Solomon said, "I don't believe God can protect my family if we are attacked. Besides, I'm not religious and I don't know God." After hearing this we explained that Solomon could never realize God's love and providence through religion. We exhorted Solomon to realize we are truly protected and saved from an eternity in Hell if we turn from our sin and put our trust in the Lord.
"Show me where it talks about God's love in the Bible?" Solomon demanded. We opened to Zephaniah 3:17 and read, "The LORD your God is with you, He is mighty to save. He will take great delight in you, He will quiet you with his love, He will rejoice over you with singing."
"This is the God that saves" we said. "But how?" asked Solomon. "Through His Son, the Messiah of Israel, who died for our sins and was raised on the third day so that we could have eternal life." we replied. Then the Spirit moved us to read to him from Isaiah 53.
Who has believed our message and to whom has the arm of the LORD been revealed? He grew up before him like a tender shoot, and like a root out of dry ground. He had no beauty or majesty to attract us to him, nothing in his appearance that we should desire him. He was despised and rejected by men, a man of sorrows, and familiar with suffering. Like one from whom men hide their faces he was despised, and we esteemed him not. Surely he took up our infirmities and carried our sorrows, yet we considered him stricken by God, smitten by him, and afflicted. But he was pierced for our transgressions, he was crushed for our iniquities; the punishment that brought us peace was upon him, and by his wounds we are healed. (Isaiah 53:1-5 NIV)
Solomon asked, "Who is this Messiah and what is His name?" We announced, "Yeshua is our Messiah!" He was hungry for the truth. Please pray the seed that was planted in Solomon would to continue to be watered.
Quick Links
Support Salvation for Israel
Support Salvation for Israel on a monthly basis. Use one of the selections below to donate to Salvation for Israel automatically each month.
NO PAYPAL ACCOUNT REQUIRED.
One Time Donation